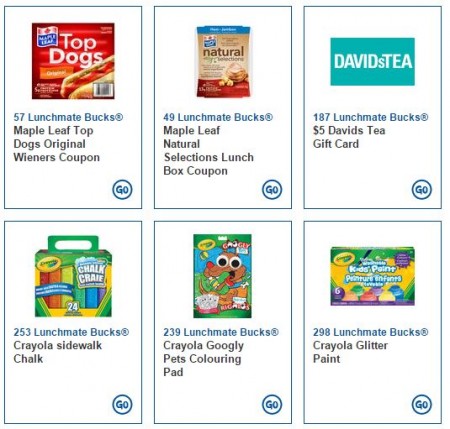 Schneiders has a great new rewards program! Join and redeem Lunchmate Bucks for FREE stuff! Just some of the rewards that are available right now are as follows:
$5 Swiss Chalet Gift Card – 180 Lunchmate Bucks
Maple Leaf Top Dogs Original Wieners Coupon – 122 Lunchmate Bucks
Maple Leaf Natural Selections Lunch Box Coupon – 94 Lunchmate Bucks
Crayola Sidewalk Chalk – 253 Lunchmate Bucks
Crayola Googly Pets Colouring Book – 239 Lunchmate Bucks
And Much More!
Go Here to Redeem your Lunchmate Bucks! Many of the offers are updated regularly, so be sure to keep checking back to see what they have available for redemption.