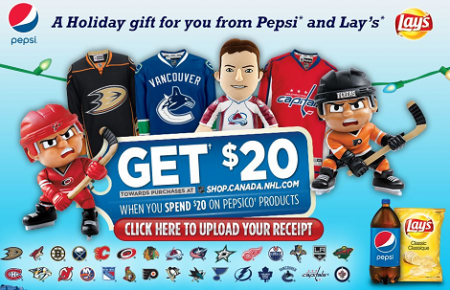 Pepsi Canada has launched a great new promotion! Get $20 towards any purchase at Shop.Canada.NHL.com when you spend $20 on participating Pepsico Products. Products that qualify are:
Lays/Doritos, Tortilla, Ruffles, Munchis, Smartfood Rold Gold, Cheetos, Chesters, Quaker, Crispy Minis, Chips ( any size or flavour)
Ruffles Dips
Pepsi Pop: Mountain Dew, Mug, 7UP, Dr Pepper, Crush, Schweppes** soft drinks, and Brisk beverages products.
Purchases must be made between November 11 – November 30. Receipts must be submitted before December 31, 2014. (One form per household)