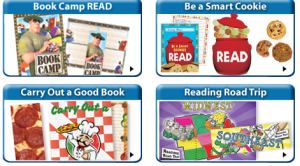 This is a super awesome resource for those parents who are homeschooling their kids or for someone who is running a daycare or preschool. These idea-packed activity guides are online and are full of suggestions for bulletin boards, book displays, games, crafts, recipes, writing projects, special events and more. These activities are all based on fun reading themes.
Just some of these themes are-
Reading Road Trip
P.E.T Patrol
Book Builders
Reading is a Thrill
Gumball Challenge
Pop Open a Good Book
Get Your Green On
And so many more! Just follow this link and click on a theme. You will be amazed at all of the great ideas just waiting for you and the kids!