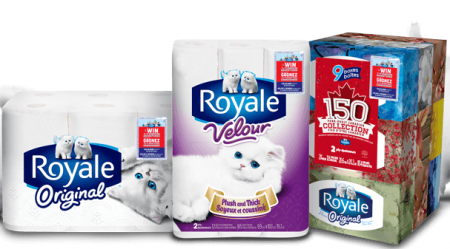 Celebrate Canada's 150th Birthday with Royale! Enter for your chance to Win 1 of 4 Grand Prizes or redeem PIN codes found on specially marked Royale products to Instantly Win Prizes!
Grand Prize Draw
Win a trip for 4 to experience Canada valued between $6125 and $13,000!
Trip 1 – Quebec Sightseeing Weekend
Trip 2 – Ottawa River Rafting Weekend
Trip 3 – Newfoundland Whale Watching Weekend
Trip 4 – Whistler Outdoor Moutain Activity Weekend
Limit 1 entry per person per day
Instant Win Contest
Purchase specially marked Royale products and locate the PIN code inside to enter for your chance to INSTANTLY WIN the following prizes:
(20) $500 Travel Gift Card
(80) Royale Purr-oudly Canadian Kitten Coin & My Canada, My Inspiration Coin Collection
(150) 2018 Parks Canada Discover Pass
(150) $25 Roots Gift Card
(300) Royale Velour FPC
(300) Royale Tiger Towels FPC
(195,000) Royale Facial Tissue FPC
Go Here to Enter. Limit of 5 PINS per person per day. Contest ends on December 31, 2017.