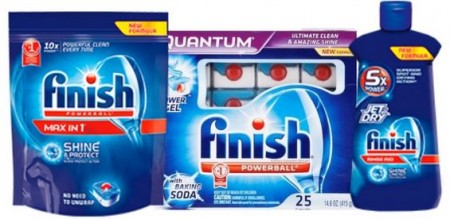 Right now a new rebate for Finish Dishwasher Detergent products is available through the SmartSaver coupon portal. Just follow the link and login to your account to get access to this rebate.
Additionally you can look for specially marked packages in stores with rebates attached to them. There has been two different rebate forms spotted.
The first says "SAVE up to $20" and is valid on any Finish Quantum Max products 18ct to 64ct Quantum Max Lemon 18ct to 64ct. You will receive up to $20 back to cover the cost of the product and taxes.
The second sticker says "TRY ME FREE" and is valid on the same products noted above, but covers up to $25 in this case. Both mail in rebates are valid until December the 31st, 2017. So far these have been spotted at at Shoppers Drug Mart, Walmart, and Sobeys.