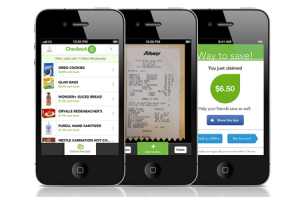 Get Checkout 51 for your iphone or android phone. Simply download the app to start saving. New offers are available every Thursday. The great thing about this program is that you're not limited to a certain store. You can purchase the featured products from any store in Canada. Here's how it works: Buy products listed on their current promotions. Use the app to upload a copy of your receipt. When your account reaches $20.00, Checkout 51 sends you a cheque. Have a coupon for a featured product? Use it for even more savings! Click here to see the current offers.
This week's offers (March 26 - April 1)
Watch for these great bonus offers too!


Cadbury Hunt Bonus: For every 10 claims approved on offers with this icon, get a bonus $1


P&G Fabric Care Bonus: Redeem 2 offers with this icon this week, and next Friday get a bonus $0.50.


Recipe Offers Bonus: Redeem 2 offers with this icon by April 1st & get a bonus $0.50 on April 10th


Easter Egg Hunt: Find the Easter Eggs hidden within your offers. Tap it to find a bonus inside!
FOOD


Buy 3: CADBURY Mini Eggs or Creme Eggs
Only valid on mini eggs 39 g bag and creme eggs 34 g . Excludes CADBURY Mini Eggs 120 g tube, 200 g bag, 400 g bag, 943 g pouch, 39 g 10 pack, creme egg mini 154 g bag, 281 g bag, tube mini 80 g, 3-pack 102 g, 6-pack 204 g and 12-pack 408 g, and any other sizes.
Limit 10
Cash Back: $1.00


CADBURY L'IL SCOOPS
136 g, any variety.
Limit 10
Cash Back: $0.50


CADBURY Hollow Egg gifts
174 g – 203 g, any variety.
Limit 10
Cash Back: $2.00

CADBURY Dairy Milk Buttons
142g
Unlocked by any CADBURY Rebates
Cash Back: $2.00

Breyers ice cream
Any variety.
Cash Back: $1.00
Breyers ice cream
Any variety.
Unlocked by Breyers ice cream
Cash Back: $1.00
Buy 2: Mini-Wheats cereal
510 g box, any variety. Items must appear on the same receipt.
Limit 3
Cash Back: $1.50
Buy 2: Kellogg's Rice Krispies Cereal
Any variety. Items must appear on the same receipt.
Limit 3
Cash Back: $1.50
Special K Popcorn Chips
127 g, any variety.
Limit 3
Cash Back: $1.00
Buy 3: Pringles
160 g or 168 g, any variety. Items must appear on the same receipt.
Limit 3
Cash Back: $2.00

Kellogg's Krave Cereal
312 g, 323 g or 564 g box.
Cash Back: $1.00
Unlock to receive Cash Back: $1.75
Kashi snack bars
Any variety.
Limit 3
Cash Back: $1.00
Ritz Bits Sandwiches
Any variety. 334g package
Cash Back: $0.50
belVita Breakfast Bites
Any variety.
Cash Back: $2.00

Buy 2: Minute Rice Ready to Serve Cups
250g package, any variety. Items must appear on the same receipt.
Cash Back: $1.00
Unlock to receive Cash Back: $1.50

Minute Rice Premium White or Whole Grain Rice
Any variety. Valid on Large Sizes: 1.2kg, 1.4kg, 2kg and 2.6kg box.
Cash Back: $1.00
Unlock to receive Cash Back: $1.50
McCain Deep 'n Delicious Desserts
Valid on 400-680g sizes. Any variety.
Cash Back: $1.00
Select Wong Wing products
Offer valid on Wong Wing entrees, spring rolls, and egg rolls. 400g-680g boxes only.
Cash Back: $1.00

Select Folgers Ground Coffee
Offer only valid on Folgers Black Silk 750g, Classic Roast 920g, and Gourmet Supreme 750g.
Limit 5
Cash Back: $2.50
Unlock to receive Cash Back $3.00

Select Folgers K-Cup Packs
Offer only valid on Folgers Gourmet Selections Hazelnut Cream, Espresso Roast, and Mocha Swirl K-Cup Packs. Valid on 12ct and 18ct packs
Limit 5
Cash Back: $2.00
Unlock to receive Cash Back: $2.50
Twinings of London Tea
Offer valid only on Twinings 20 ct & 50 ct teabags, loose leaf tea 100 g and K-Cup packs (10/12 ct).
Cash Back: $0.75
Redpath Cinnamon Sugar Shakers
Any variety.
Cash Back: $0.75
Catelli Gluten Free pasta
Any variety.
Cash Back: $0.75
Club House Skillet Sauces
Any variety.
Cash Back: $0.75
Frank's RedHot Stingin' Honey Garlic Sauce
354ml bottle
Limit 10
Cash Back: $1.00
French's Tomato Ketchup
750ml – 1L bottle
Limit 10
Cash Back: $0.50
French's Worcestershire Sauce
295ml bottle
Limit 10
Cash Back: $1.00
Ocean's World Cuisine Pasta Sauce
Any variety.
Cash Back: $1.50
Thai Kitchen and Simply Asia products
Any variety.
Cash Back: $1.00
McCormick Authentic Asian Recipe Mixes
Any variety.
Cash Back: $1.00
HOME
Buy 2: Select SC Johnson products
Offer valid on Scrubbing Bubbles, Windex, Ziploc brand, Glade, and Pledge. Excludes Ziploc Space Bag 15ct. Items must appear on the same receipt.
Cash Back: $3.00

Buy 3: Glade Ultra
Any variety. Items must appear on the same receipt.
Cash Back: $4.00
Unlock to receive Cash Back: $4.50

Buy 3: Glade Aerosols
Any variety. Items must appear on the same receipt.
Cash Back: $3.00
Unlock to receive Cash Back: $3.50

Gain Fireworks
Any variety.
Cash Back: $1.00

Gain Flings
Any variety.
Cash Back: $1.00
At Costco: Ziploc Space Bag
Offer valid on any 15ct pack only.
Cash Back: $3.00
PERSONAL CARE
DOVE Beauty Bar
4 x 90 g Beauty Bar package or larger. Excludes trial and travel sizes and Dove Men+Care products.
Limit 2
Cash Back: $1.00
Old Spice Antiperspirant/Deodorant
Any variety. Excludes trial and travel sizes.
Cash Back: $1.00
COVERGIRL truBLEND products
Any variety. Excludes trial and travel sizes.
Cash Back: $2.00
TRESemme Styling Products
Any hairspray, mousse, gels, styling paste, treatment product, and dry shampoos. Excludes travel and trial sizes.
Cash Back: $1.00
Gillette Antiperspirant/Deodorant
Any variety. Excludes trial and travel sizes.
Cash Back: $1.00
Secret Clinical Strength Antiperspirant/Deodorant
Any variety. Excludes trial and travel sizes.
Cash Back: $2.00
Simple Skincare
Any variety. Excludes trial and travel size.
Limit 2
Cash Back: $2.00
Dove Pure Care Dry Oil hair care products
Any variety. Excludes trial and travel sizes.
Limit 3
Cash Back: $1.00
Always Discreet Adult Incontinence products
Any variety.
Cash Back: $4.00
Buy 2: Clairol Hair Colour
Any variety. Items must appear on the same receipt.
Cash Back: $3.00
Vidal Sassoon Hair Colour
Any variety. Excludes trial and travel sizes.
Cash Back: $2.00
COMBO: Crest Brilliance Toothpaste + Brilliance Boost
Any variety. Excludes trial and travel sizes. Items must appear on the same receipt.
Cash Back: $5.00
Crest Sensi Toothpaste
Any variety. Excludes trial and travel sizes.
Cash Back: $1.00
CHILD CARE
Pampers Swaddlers or Cruisers Diapers
Offer valid on Pampers Swaddlers or Cruisers only. Excludes 74ct boxes and higher.
Cash Back: $2.00

Buy 2: Nestle Gerber Melts
Any variety. Items must appear on the same receipt.
Cash Back: $1.00
Nestle Gerber Little Whoos Crackers
Any variety.
Unlocked by Buy 2: Nestle Gerber Melts
Cash Back: $1.50
PET CARE

TEMPTATIONS HEALTHY HELP CAT TREATS
Any size, any variety.
Cash Back: $0.50
Unlock to receive Cash Back: $0.75

TEMPTATIONS SAVOURY CAT TREATS TEST
Any size, any variety.
Cash Back: $0.50
Unlock to receive Cash Back: $0.75

TEMPTATIONS 3-IN-1 CAT TREATS
Any size, any variety.
Cash Back: $0.50
Unlock to receive Cash Back: $0.75

TEMPTATIONS ALL NATURAL CAT TREATS
Any size, any variety.
Cash Back: $0.50
Unlock to receive Cash Back: $0.75
PEDIGREE DOG TREATS
Offer valid on PEDIGREE DENTA STIX, PEDIGREE MARROBONE, and PEDIGREE JUMBONE products. Excludes 125 g pack sizes or less.
Cash Back: $3.00
OTHER
Cupcake Red Velvet Wine
750 mL bottle.
Cash Back: $2.00

Kahlua
750 mL bottle.
Cash Back: $2.00

Absolut Vodka
750 mL bottle.
Cash Back: $2.00
Jacob's Creek Classic Shiraz Cabernet
750 mL bottle.
Cash Back: $2.00
Havana Club 3 Year Old Run
750 mL bottle.
Cash Back: $2.00
Style at Home Magazine
Valid on the April newsstand issue.
Cash Back: $1.00
ELLE Canada Magazine
Valid on the April newsstand issue.
Cash Back: $1.00
Submit a grocery store receipt for $60† or more for a chance to win $500