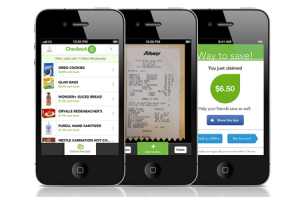 Get Checkout 51 for your iphone or android phone. Simply download the app to start saving. New offers are available every Thursday. The great thing about this program is that you're not limited to a certain store. You can purchase the featured products from any store in Canada. Here's how it works: Buy products listed on their current promotions. Use the app to upload a copy of your receipt. When your account reaches $20.00, Checkout 51 sends you a cheque. Have a coupon for a featured product? Use it for even more savings! Click here to see the current offers.
This week's offers (February 26 - March 4 )
Watch these BONUS OFFERS!


Chips Ahoy Flavour Challenge: Redeem all offers with this icon by March 11th, and on March 13th get a bonus $0.25.


P&G Fabric Care Bonus: Redeem 2 offers with this icon this week, and next Friday get a bonus $0.50.
FOOD
FRENCH'S Classic Yellow Spicy Mustard
400 mL bottle.
Cash Back: $0.75
FRENCH'S Classic Yellow Sweet Mustard
400 mL bottle.
Cash Back: $0.75
FRENCH'S Tomato Ketchup
750 mL – 1 L bottle.
Cash Back: $1.00
belVita Breakfast Biscuits and Bites
Any variety.
Cash Back: $1.00

CHIPS AHOY! Ice Cream Creations Dulce de Leche cookies
280 g package, offer valid on Dulce de Leche flavour only.
Cash Back: $1.00

Chips Ahoy Ice Cream Creations Mint Chocolate Chip
280 g box. Excludes all other flavours
Cash Back: $1.00
Buy 3: Catelli Smart Pasta
Any variety. Items must appear on the same receipt
Cash Back: $1.25
Thai Kitchen and Simply Asia products
Any variety.
Cash Back: $1.00
Frank's RedHot Bollywood Bold & Sweet Indian Style Sauce
Any size.
Cash Back: $1.50
Frank's RedHot Slammin' Sriracha Chili Sauce
Any size.
Cash Back: $1.50
FRANK'S REDHOT Sweet Chili
Any size.
Cash Back: $1.50
Kellogg's Corn Pops cereal
320 g box or more.
Cash Back: $0.75
Kellogg's Frosted Flakes cereal
425 g box or more.
Cash Back: $0.75
Kellogg's Vector Meal Replacement
400 g box.
Cash Back: $0.50
Kellogg's Nutri-Grain Soft Bakes
175 g package, any variety.
Cash Back: $1.00
UNCLE BEN'S QUICK COOK PERFECTION Rice
700 g or 1.6 kg box.
Cash Back: $1.00
McCormick Authentic Asian Recipe Mixes
Any variety.
Cash Back: $1.00
Club House Skillet Sauces
Any variety.
Cash Back: $0.75
RITZ To Go! Crackers
334 g package, any variety.
Cash Back: $1.00
Eggo Thick & Fluffy Waffles
Any variety. Excludes all other Eggo products.
Cash Back: $0.75
Twinings of London Tea
Valid only on Twinings 20 ct & 50 ct teabags, loose leaf tea 100 g and K-Cup® packs (10/12 ct
Cash Back: $0.75
Select Folgers K-Cup Packs
Offer only valid on Folgers Gourmet Selections Hazelnut Cream, Espresso Roast, and Mocha Swirl K-Cup Packs. Valid on 12ct and 18ct packs
Cash Back: $2.00
Select Folgers Ground Coffee
Offer only valid on Folgers Black Silk 750g, Classic Roast 920g, and Gourmet Supreme 750g.
Cash Back: $2.50
HOME

Select Tide products
Any variety. Excludes Tide Pods, Tide Simply Clean & Fresh and travel and trial sizes.
Cash Back: $1.00

Bounce products
Any variety.
Cash Back: $1.00
OxiClean 2in1 Dishwasher Booster + Rinse Agent
Any variety. Excludes Triple Action Booster.
Cash Back: $1.00
OxiClean Dishwasher Detergent
Any size. Excludes all other OxiClean products.
Cash Back: $2.00
PERSONAL CARE
COMBO: Head & Shoulders Shampoo + Conditioner
Any variety. Excludes trial/travel sizes and value/gift/bonus packs. Items must appear on the same receipt.
Cash Back: $2.50
COMBO: Pantene Shampoo + Conditioner
Any variety. Excludes trial and travel sizes. Items must appear on the same receipt.
Cash Back: $4.00
COMBO: Herbal Essences Shampoo + Conditioner
Any variety. Excludes trial and travel sizes. Items must appear on the same receipt.
Cash Back: $2.00
Old Spice Shampoo
Any variety, includes Old Spice 2in1 products. Excludes trial and travel sizes.
Cash Back: $0.50
TRESemmé styling products
Any hairspray, mousse, gels, styling paste, treatment product, and dry shampoos. Excludes travel and trial sizes.
Cash Back: $2.00
Vaseline Intensive Care Repairing Serum
Offer valid on any 200ml Repairing Serum.
Cash Back: $2.00
Buy 2: Degree anti-perspirant or deodorant
Any Degree Men and/or Women product excluding trial and travel sizes. Items must appear on the same receipt.
Cash Back: $2.00
Buy 2: Clairol Hair Colour
Any variety. Items must appear on the same receipt.
Cash Back: $3.00
DOVE Beauty Bar
4 x 90 g Beauty Bar package or larger. Excludes trial and travel sizes and Dove Men+Care products.
Cash Back: $2.00
Buy 2: Vidal Sassoon Hair Colour
Any variety. Items must appear on the same receipt.
Cash Back: $5.00
Buy 2: Olay Complete & Age Defying Series products
Offer valid on Olay Complete or Olay AgeDefy products only. Excludes all other Olay products. Excludes trial and travel sizes and gift, bonus, or value packs. Items must appear on the same receipt.
Cash Back: $3.00
Olay Fresh Effects products
Offer valid on Olay Fresh Effects products only. Excludes all other Olay products. Excludes trial and travel sizes and gift, bonus, or value packs.
Cash Back: $2.00
Olay Regenerist & Total Effects products
Offer valid on Olay Regenerist and Total Effects products only. Excludes all other Olay products. Excludes trial and travel sizes and gift, bonus, or value packs.
Cash Back: $4.00
Trojan Lubricants
Any variety. Valid on 88ml bottles only. Excludes trial and travel sizes.
Cash Back: $2.00
Trojan Condoms
Any variety. Valid on 10ct boxes only.
Cash Back: $1.00
Trojan Vibrations
Any variety.
Cash Back: $2.00
Always Discreet Adult Incontinence products
Any variety.
Cash Back: $4.00
PET CARE
Milk-Bone Brushing Chews
Offer valid on Milk-Bone Brushing Chews, 156g size only. Any variety. Excludes all other Milk-Bone products.
Cash Back: $1.50
OTHER
Cupcake Chardonnay
750 mL bottle.
Cash Back: $2.00
Lot No. 40 Canadian Whisky
750 mL bottle.
Cash Back: $2.00
Absolut Apeach Vodka
750 mL bottle.
Cash Back: $2.00
ELLE Canada Magazine
Valid on the March newsstand issue.
Cash Back: $1.00
Submit a grocery store receipt for $60† or more for a chance to win $500