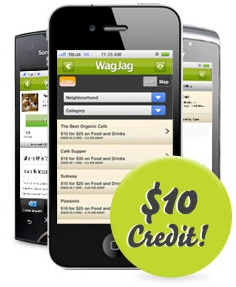 Click here to register for WagJag.  You will then be asked to put in your Telus Mobility phone number.  After that, they will send you a text message with a promo code that you will need to enter in the last step to complete the process to get your $10 credit.  WagJag is a little complicated, but it seems like it may be worth it and you can save a lot of money.
From the site: WagJag.com brings you amazing deals on the coolest events, restaurants, fashion finds, activities and adventures. We can deliver great offers because we assemble a group of "WagJaggers" with combined purchasing power (buying in numbers = better pricing…even we know that!).
How Does WagJag Work?
We feature an amazing deal in your city available for a limited time
You can only get the deal if enough people join the group – spread the word!
If enough people join you get a printable electronic voucher
Use the voucher to redeem your WagJag
To join a group, click the "Buy Button" and follow the instructions. You will only be charged if the group is big enough. If you want the WagJag, spread the word far and wide because we can't get it unless we have enough people. You can share it easily using the social media links on each deal page.