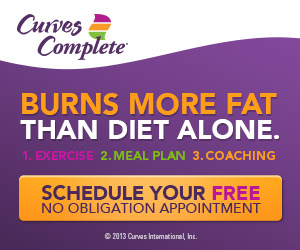 For a limited time, Curves is offering a Free $50 Consultation on exercise plans, meal plans and coaching to help you reach your fitness goals.  I visited with a Curves gym owner and was pleasantly surprised that this is not just some pushy sales pitch but rather a very helpful discussion about helping people achieve their fitness goals.
With Curve's 30 minute work out, you can burn up to 500 calories, which when combined with special work out plan (designed just for us women), will work your whole body, from head to toe nail.
To sign up, click here and enter your name, email and zip, then hit the "Continue" button. If you're not familiar with Curves, it's a women's only gym.