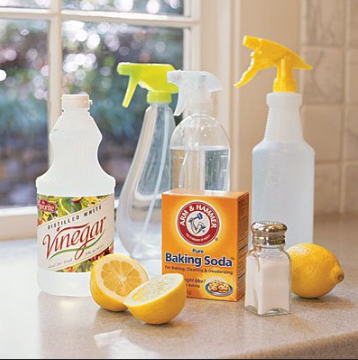 In todays maddening selection of cleaning supplies, you can easily drive yourself crazy trying to decide which scented soap, bleach, or detergent is best for you and your family.  If you're also conscious about the various types of chemicals that are packed into many of today's popular brands, it can pose an extra challenge and leave you scratching your head.  I usually believe that when it comes to cleaning products, less is more.  By the off chance that I were to spill on myself, my clothes, I know that It wouldn't cause serious damage.
Luckily, there are a few simple cleaning supplies that won't break the bank, and are a simple solution to the sea of supplies in most grocery stores.
Here are a few of our favorites:
White Vinegar: Use one cup vinegar and one cup water.  It's great for cleaning hardwood floors.  While the smell might be a little tough to stomach, it's inexpensive and definitely does the trick.
Olive Oil (or Jojoba Oil) and Lemon Juice:  Use 1 cup Olive oil and ½ cup lemon juice as a great furniture polish.  Mix it in a spray bottle, shake well, and spray onto a cloth.  Swipe evenly onto wood products and dry with a dry rag.
Vodka: The less expensive the better. Two parts Vodka, one part water.  Mix and pour into a spray bottle.  Use it on anything from cleaning counter tops to disinfecting surfaces, freshen a smell from clothes, to remove mold and mildew, and even grass stains from soccer jerseys!
Old T-Shirts:  Have a lot of t-shirts that the kids have outgrown?  Too stained for even the most superwoman mommy to tackle?  Reuse old and outgrown T-shirts instead of paper towels! Cut or simply keep old t shirts around for major dinner spills, to clean floors, dust furniture, shine windows, or anything in between.  A lot of the times paper towels can get expensive so why not reuse them?  When they get dirty again you can simply throw them in the washer/dryer.  Keep them stowed away in a cute basket next to your new cleaning supplies.
Baking Soda: Use it to get grime and grease off of pans, and bathtubs!  Simply sprinkle a bit onto a sponge and scrub away.  Then, store the baking soda in the refrigerator to remove any odors.  You can also sprinkle it in diaper bins, smelly sneakers and shoes to remove unpleasant smells.
It can definitely feel daunting to begin to sort through your cleaning products and throw out a majority of store bought items.  While this list is a very basic sample of simple solutions, it can easily help you live  a cleaner and safer life (for you and your family), and certainly free up a  lot of storage space in your closets, so you can pack them with things that matter most, like photo albums and memories of your kids enjoying their time in your clean and safe home.
By Alexandra, Free Stuff Finder Canada Contributor