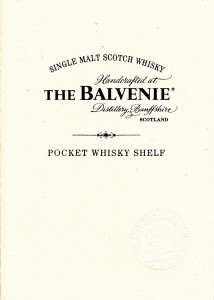 Are you or someone you know a Whisky Connoisseur? Join Warehouse 24 from The Balvenie and they will send you a FREE Whisky Tasting Notebook, plus the FREE membership gives you access to other fun and interactive tools on their site.  See below for a list of features of membership to Warehouse 24.

From the site:
Once you've joined Warehouse 24:
Start your own Whisky Shelf – a unique record of your whisky journey.
Share your notes with fellow malt enthusiasts around the world.
Enjoy access to the people who craft our single malt whisky.
Be amongst the first to receive Balvenie Distillery news and early notice of our new releases.
Improve your chances of winning the VIP trip to the home of the Handcrafted Malt
The Whisky Academy – a course of 35 educational films from some of the industry's leading experts
This is a great deal for true Whisky Enthusiasts!  Just Click Here to sign up!