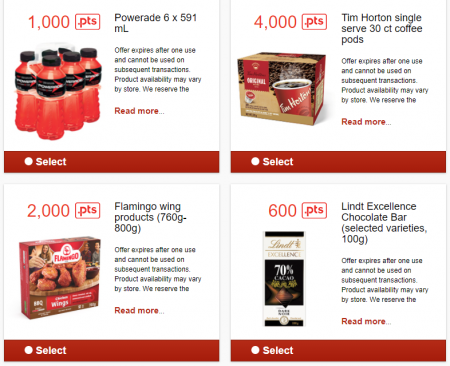 Get More PC Plus Points with every win this hockey season with the Provigo & Habs portal featuring PC Plus loadable bonus offers! Each time the Habs win a game, there will be new PC Plus offers added to the portal for you to load to your account and use! Here is the current list of offers:
1000 PC Points Powerade (6 x 591ml)
4000 PC Points Tim Hortons Large Tin (Original or Dark Roast, 875g – 930 g)
850 PC Points Fontaine Santé Humm! Hummus cocktail (227-255g)
2000 PC Points Flamingo wing products (760g-800g)
500 PC Points Lindt Swiss Classics
600 PC Points Nutrilait 10% 1L Cream
800 PC Points Eska Natural Spring Water (24 x 500 mL pack only)
These offers are one time use, but should work on multiple items if you purchase more than one in a transaction.