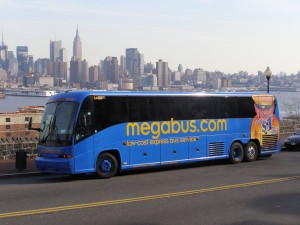 Click Here for details about Megabus.com's 200,000 FREE Seat Giveaway. Megabus.com express bus service is offering 200,000 free seats for travel Jan. 9 to Feb. 28, 2013. But, you can go ahead and book now. Megabus.com gives travelers environmentally-friendly buses, free Wi-Fi, power outlets and restrooms.
The free seats are subject to availability for travel from Jan. 9 to Feb. 28  to and from cities served by megabus.com in the USA and Canada. Use the promo code TRYMEGABUS to book your free seat.
Because of  local regulations in Canada, free seats for travel to Kirkland and Montreal are excluded, however additional $10 seats are available. Have a fun and safe trip!