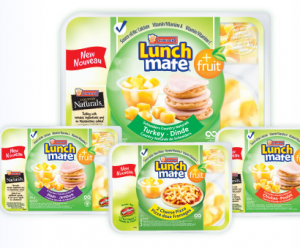 Update: The freebie is closed, but you can still get the  $1 coupon. 

Schneiders Lunchmate is currently running a promotion where they are giving 1,000 coupons everyday that redeems for a Free Package of Lunchmate. Nice! Offer re-opens daily Monday through Friday until September 28th, 2012.  Everyday, they'll open up the promotion at a random time between 9am to 5pm EST and the first 1000 people gets it. The freebie coupon will be awarded on a first come first serve bases.
While the daily freebie offer is closed, you will see a $1 Off Coupon instead. Not a bad deal, since if you get two Lunchmates, you can get a Free Box of Crayola Coloured Pencils (details here).
Notes & Tips:
You don't need to select more coupons. When you get the Free coupon, just click on "Get my coupons" if they ask you to add more.
It may help to be logged into websavers.ca before you get the coupon.
You can get both the $1 coupon and Free coupon. However, if you already ordered the $1 coupon and missed out on the 1000 freebies for the day, you'll see the message "Already Ordered."