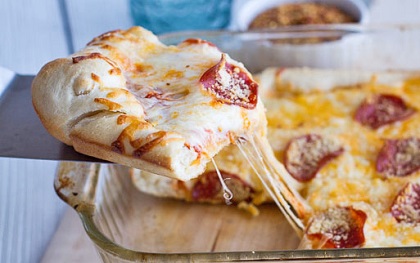 Check out this easy peasy (or should I say cheesy?!) homemade Deep Dish Pizza Casserole! Super yummy and super fast and easy to make! You can customize this recipe to your liking by adding your choice of meat or veggies or even different varieties of cheeses. Just be sure to use precooked meat.
Ingredients
1 (13 ounce) Pillsbury Pizza Crust
1 1/2 cups pizza sauce
2 1/2 cups of your favorite cheese (I like using a mix of provolone, mozzarella and cheddar)
1/3 cup Parmesan cheese, grated
12 whole pepperonis (optional)
1/2 pound cooked ground spicy Italian sausage (optional)
Directions
Preheat oven to 425 degrees F. Grease a 9×13 inch baking dish with cooking spray or olive oil.
Unroll the pizza dough, and press it into the bottom and halfway up sides of prepared baking dish.
Spread the dough with some pizza sauce and, if using, sprinkle the cooked spicy Italian sausage over the top. Cover the pizza with cheese and then top with pepperoni (if using). Sprinkle the Parmesan over top.
Bake for 15-20 minutes or until crust is golden brown and the cheese is melted. Remove from the oven and sprinkle with more Parmesan if desired. Serve immediately.
Source: Half Baked Harvest