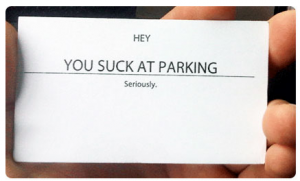 Right now you can get 250 FREE Business Cards from Vistaprint, you just pay shipping at $5.00.  Don't think you need a business card?  Well think again people:
You know the "You suck at Parking" card made you laugh out loud when you saw it!
Create "mommy cards" that can easily be passed out when you meet new moms to create play dates with.
Single ladies – how about Ms. Freebie Hunter calling card?  Discount Diva seeks Coupon Casanova?
Here's how to get the Free Business Cards:
Go to Vistaprint and scroll down until you see the "Free Business Cards" offer and click on the Get Started button.
They have about 45 templates available for the Free deal.  You can add text only to the front side.  Standard shipping is $5.
If you want a more professional card you can choose the paid option instead of the free option.  It's $3.99 plus shipping.  This option gives you over 5000 designs.