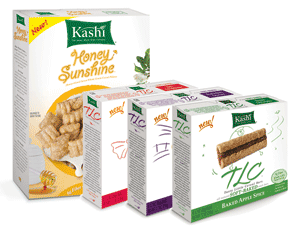 Update: If the question they ask is not in the ones below, try searching for it on the web.  I opened up a new tab and just Googled it. My question was "How many grams of protein are in Silk Unsweetened?" I just put into Google "grams of protein Silk Unsweetened" and I found the answer – 7. 
Note: I'm on firefox, and when I answered a question wrong it crashed my browser. It worked better on Google Chrome. If you get a question wrong, you can reset and try again. :)
Silk is offering Free Kashi Cereal Or Snack Bars when you buy specially marked Silk products. To claim this freebie go here, select Silk Unsweetened, enter UPC code 025293000735 and answer the question. Limited one coupon per household. You will receive the Free coupon in the mail. They also offer you a printable coupon after completing the request form as a bonus.
The questions change, but here are some answers that worked for our readers (let us know what worked for you in the comment section):
(which letter in a circle?) Letter U
(How many coupons can a household receive?) 1 coupon
(Buy a Carton, ___) Plant Trees
(Silk is great for many things…) Infant Formula
(What is our customer service phone number?) 866-233-5410
(How many coupons are available for a free box…) 60,000
(How long will Silk stay fresh after opening…?) 7-10 days
(Complete this sentence as part of our Satisfaction…?) Wholesome and Easy to Love
(Silk Original is certified organic by ….?) Quality Assurance International
(Fall ___ with Silk!) In Love