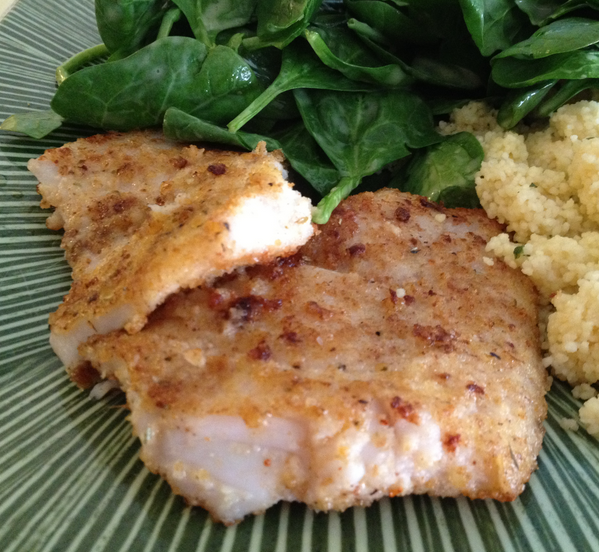 My go-to fish dish is usually salmon. I stalk the fish counter at the supermarket all the time, looking to see if there are any wild salmon choices. Finding wild fish is important to me because farm-raised fish is extra fatty and I think it is sort of odd to gobble up farmed fish, no offence to any farmed fish lovers, this is just my personal choice.
Of course, I can not bring myself to pay full-price for wild salmon because it can get quite costly and I am on a tight grocery budget. This has caused me to get a little more creative in the kitchen.  I sometimes get tilapia, especially if I have a craving for fish tacos. However, I have decided to make an effort to incorporate other fish dishes into our diet.
My husband really enjoys snapper and I happened to find a great price on fresh wild snapper this week. Unsure of the best way to prepare it, I asked the gentleman behind the counter for his advice. He suggested pan frying for best and most delicious results. This seemed easy enough so I purchased a little over one pound of fish for my husband and I.
The dish turned out near-perfect, not bad for my first attempt. I just had to share my success story with the world, in case there are other moms and dads out there looking to broaden their fish-cooking horizons.
Follow these easy instructions to prepare a savory fish dish that your family is sure to enjoy.
You will need:
two snapper filets
Bread crumbs
Kosher salt
Fresh ground pepper
Olive oil
Seasoning of your choice
*This Dish takes about 15 minutes to prepare
Simple Snapper
In a medium sized bowl mix bread crumbs and seasoning of your choice. I used a Mediterranean mix along with kosher salt and fresh ground pepper. You can also add grated parmesan cheese if you would like, but I held the cheese this time.
Cut fish into a manageable size and drop into bread crumb mix. Generously coat the fish with crumb mix until fish is completely covered.
Heat a frying pan with olive oil on med/high heat.
Carefully add fish to pan. Cook for about four minutes and flip fish. Continue cooking for about four minutes or until fish is completely cooked.
To round out this meal I made a little spinach salad and couscous. This was a seriously quick and delicious meal! I would recommend it for any mom on the go. My husband devoured his dish with a smile on his face. I could not have been more satisfied with my first attempt at making snapper.
Another great part about this dish is that I got the wild snapper for much less than salmon. Although I will always look for salmon first, snapper is a great alternative that proved to be budget friendly.
Do you have any favorite fish dishes that you would recommend? Share them here, I would sure like to try another new dish!
By Tara, Free Stuff Finder Canada Contributor